Hamburg is usually not the first place we think of when it comes to snow and winter sports. But also in Hamburg, there is now an alpine startup. The four founders of Bluebird Mountain have developed a drone that helps in the search for buried persons after an avalanche.
In the 2018/2019 winter season, 19 people died in avalanche accidents in Austria alone. Most of the people buried do not die from the force of the avalanche, but from the fact that they cannot be rescued in time. A full burial means complete helplessness and breathing air for a few minutes. The only reliable help are companions who are already at the scene of the accident. They are now confronted with finding and recovering the buried person as quickly as possible.
How does the drone work?
In an interview on the Waterkant in Kiel, co-founder Konstantin Kollar explained to us how easy PowderBee can be operated: "You can take PowderBee out of your Backpack, you push one button and then it autonomously searches for the avalanche victim. It is faster and more precise than the manual search process."
PowderBee, a 600-gram drone, searches the area for the buried victim's beacon signals. PowderBee is equipped with a height sensor that reliably maintains a constant height over any alpine ground. This means that the drone can also be used on very uneven avalanche fields without problems. PowderBee is optimized for the harsh alpine conditions: Height, wind, and cold. "We now have an accuracy of around five meters around the victim", explained Konstantin Kollar. PowderBee takes over the rough search of the avalanche beacon signal and is compatible with all avalanche beacons on the market.
Who's behind Bluebird Mountain?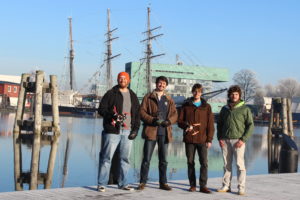 Bluebird Mountain was founded by Markus Müller, Konstantin Kollar, Moritz Obermeier, and Daniel Leppert. They combine their knowledge of aircraft system technology, software development, marketing and business administration. The idea of the startup was already met with interest in the industry. Last December, Bluebird Mountain was able to take home the ISPO Brandnew Award at the world's largest startup competition in the sports industry. The next milestone for the founders is a seed financing round to bring the product to market. Hamburg has thus finally arrived on the alpine map.
Disclaimer: StartupTV was a media partner at the Waterkant Festival. We did a lot of interviews with Startups there. Organized by Opencampus, funded by the Ministry of Economics, Transport, Labour, Technology, and Tourism Schleswig-Holstein & Wirtschaftsförderung und Technologietransfer Schleswig-Holstein GmbH