The pocket-sized smart travel robot, CleanseBot or Cleanse Bot, provides a solution to the problem of germs and bacteria lying on hotel surfaces.
While the general cleanliness of a hotel can be of a high standard, multiple bacteria can still be found on bedspreads, light switches and television remotes, often causing holidaymakers or business people to return home feeling ill as a result of over-exposure to more germs than normal.
The pocket-sized cleanse bot is designed to kill bacteria.
CleanseBot disinfects all surfaces using UV-C light.
It features 3700 mAh battery and 'Power Bank Mode' for charging other devices.
Cleansebot – Two Cleaning Modes and a Power Bank Mode
The CleanseBot has two different cleaning modes that are designed to disinfect any surface it needs and one power bank mode:
"Under Blanket Mode" helps the cleanse bot travel robot remove germs and bacteria from bedsheets. By pulling the top and bottom halves of the CleanseBot apart, wheels are revealed which, once set down on any surface, including on a bed underneath the blankets, help the robot to run along the surface, destroying bacteria along the way. It will clean on its own for 30 or 60 minutes, depending on which time setting you choose.
In "Handheld Mode," simply place your hand under the strap and press down the power button for three seconds to turn the device on. Press the power button again to turn on the downward-facing UV-C lights. Then aim the lights at any surface or device, holding the CleanseBot 1-3 inches away.
For easy storage, put the handle cover back on the wheeled part of the CleanseBot, hold the power button for three seconds to turn off, and store. Its portable size means that it easily fits in drawers, backpacks and more.
Smart AI Sensors and a Powerful Battery Pack
CleanseBot features 18 smart AI sensors that keep the device moving whilst never allowing it to get stuck or fall off a bed. These AI sensors are designed specifically for materials and fabrics as opposed to just hardwood and flat surfaces. The CleanseBot wheels use patent-pending technology which can run over any surface.
Ventur Studio, the developer of CleanseBot, has also partnered with the Panasonic battery factory to integrate Li-ion cells and power management systems into the CleanseBot's hardware. This turns the bot into a portable charger with a 3700 mAh battery in its 'Power Bank Mode'.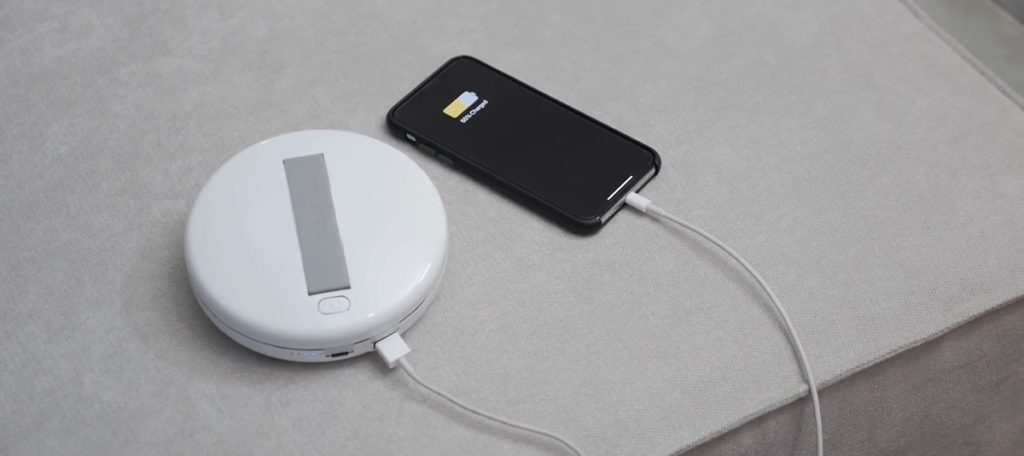 The CleanseBot has been regulated with an independent third-party testing centre, the Guang Zhou Institute of Microbiology and the Guangzhou Testing Centre of Industrial Microbiology. The test results show that only 30 seconds of exposure of UV-C light on the E. coli bacteria kills up to 99.99% of it.
The CleanseBot's pilot run is scheduled for February 2019, with shipping then beginning in April. If you want to learn more, check out their Kickstarter campaign.