Every year, the world loses 30% of its global agricultural harvest due to pests and plant diseases. The worst-impacted crops are wheat, rice, maize and soybeans. These crops are some of the world's most vital sources of food, with rice and maize, in particular, losing up to of 40% of their yield in any given year.
Without appropriate preparation and sanitation of tools, pests can quickly spread and infect numerous plants. Determining a cause is also time-consuming as farmers need to send samples to a lab to obtain a diagnosis, a process that can take days or even weeks to complete. Furthermore, farmers have to then educate themselves on how to prevent these diseases from returning in the future. Luckily, startups of the world are coming up with innovative solutions to this global crisis.
Taranis: A Solution for Large-Scale Farms

Meet Taranis. This startup has developed a solution that targets large-scale agriculture facilities with the help of computer vision, data science and deep learning. Being a precision agriculture application, it helps farmers predict, identify and prevent crop yield losses. The startup from Tel Aviv gathers thousands of photos via drone imaging and can detect irregularities at the scale of one leaf. This technology then alerts farmers around the world via the Taranis app in order to help prevent further losses.
While the Taranis solution has become invaluable for large-scale farms, its high tech requirements, including access to drones and iPads, means it is not suited for small-scale farms (2 hectares or less in size). There are over 500 million of them around the world and they make up 98% of the world's farms and comprise a total of 12% of all agricultural land. Taranis may not suit them, but there's a small-scale solution.
Plantix: The Small-Scale Solution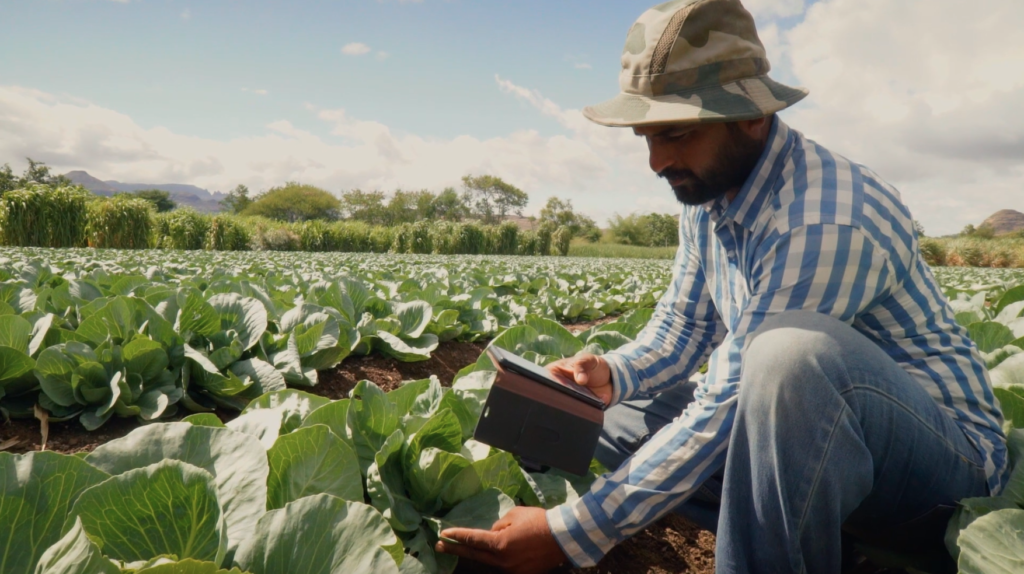 Another startup called Plantix has developed an app that gives farmers the chance to rapidly identify potential problems with the help of its database of pests and diseases. Plantix is better suited for smaller farms because it only requires a smartphone, the app and very minimal initial investment.
The app works like this: Farmers take a picture of an infected plant in the field, the app sends the picture to Plantix's servers for processing and the algorithm then identifies the patterns and physical characteristics of the affliction and determines which pest or disease is causing the problem.
In just a few seconds, the app then provides appropriate recommendations for treatment, along with connections to retailers so that farmers can purchase the required solution.
StartupTV had the opportunity to speak with founder Simone Strey at the NOAH conference in London, where she highlighted the benefits of a product like Plantix:
"It's really hard to identify plant diseases on the field directly. Small-scale farmers are not really so well-educated… And their fields are shifting so it's always new diseases they are facing." She went on to say that her team "are building a smart agricultural ecosystem. It's like an online doctor pharmacy relationship. We give advice to the farmer, give the farmer a prescription to make sure he gets, in the end, the right product, connect him to the retailer… by using image recognition and machine learning."
Created by a team of seven in Berlin, the company was first developed by founder Simone Strey and her co-founder (and husband) Robert Strey. The two met while completing their PhD research in the Amazon rainforest.
Opportunity for Improvement
Regular and massive losses in a supply chain present a prime opportunity for improvement. Artificial intelligence could be the key to accomplishing this. To put some numbers to it, 1.4 billion tonnes of cereal is lost due to pests and diseases every year, which is enough to feed the 10.7% of the world's population that suffers from chronic hunger. Though protecting the world's farms is only one part of the solution to combating global hunger, being more resourceful is certainly a good place to start.
Sources: FAO.org, Nature.com, eea.europa.eu, globalagriculture.org