The sci-fi movies of the 70s and 80s promised us a very different future to the one we're currently living. Hell, even the 1920s assumed that we'd all have our own personal flying cars at this point. And while we certainly have remarkable inventions in our lifetime, the prospect of getting into a flying car seems a little ways off. That is until EHang comes into the picture. Based in Guangzhou, China, EHang is one of the world's leading autonomous aerial vehicle ("AAV") technology platform companies. The company's mission is to make safe, autonomous and eco-friendly air mobility accessible to everyone, which it is in the process of doing with its AAV. Let's take a look under its hood.
EHang & Its Autonomous Aerial Vehicle of the Future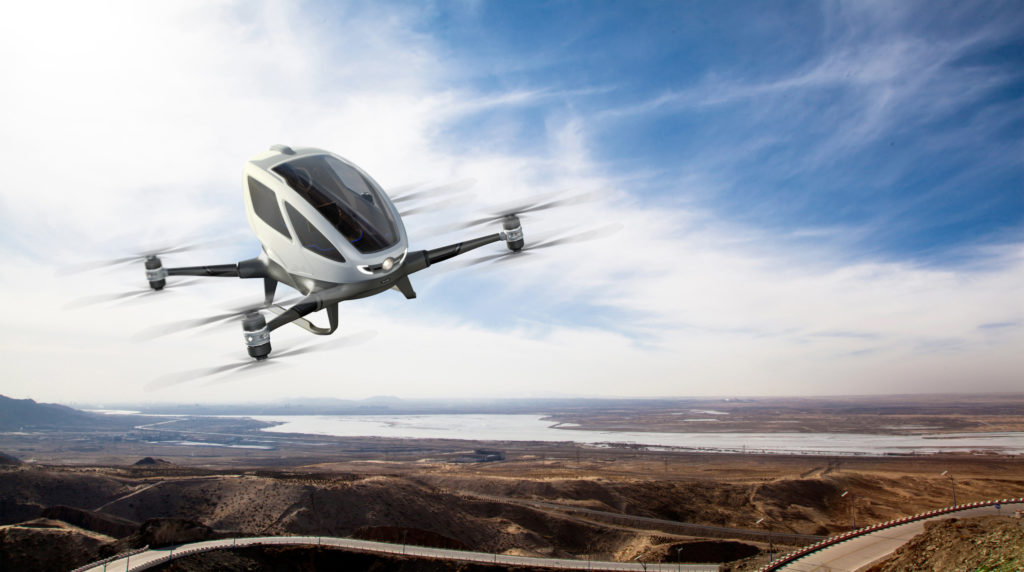 The EHang aircraft is just 1.77 meters long, but its max payload is 220kg, making it efficient for the transportation of both goods and, most excitingly, people. EHang plans to implement the AAV for urban air mobility smarty city management and aerial media solutions. Oh, and the aircraft is capable of travelling at speeds of 130km/h. Just imagine that for a moment.
By removing the need for pilots, the aircraft eliminates the potential for malfunctions caused by human error. EHang's AAV also utilises electric charging to reduce carbon emissions as it can be charged with a 220V or 380V power supply. The aircraft also utilises 4G and 5G network connections, enabling the control centre to remotely pilot the AAV. There are also several measures in place to ensure that nothing happens to the passengers or goods on board. The AAV is equipped with an early warning system that allows for the control centre to take the appropriate measures to ensure the safety of everyone and everything on board.
When Can We Take to the Skies?
As of March 2020, EHang has begun a partnership with Llíria, Spain in order to bring urban air mobility to Europe. Llíria is the fourth city to work with EHang, following in the footsteps of Seville, Linz and Guangzhou. While EHang looks to expand into Europe, the company is also working to use its AAV for medical emergency transport. In February 2020, the company conducted a test flight in which the two-passenger-aircraft delivered medical supplies from one hospital to another. After the delivery, the AAV automatically returned to its point of origin. 
With all of the plans in EHang's future, the company has been sure to thoroughly test its product. The AAV has gone through hundreds of safety standard tests including a static test, a load ground test, a load flight test, a durability test, a reliability test, an environmental test and an anti-interference test. These tests were performed under all kinds of inclement weather conditions such as high and low temperatures, high humidity, salt spray and typhoon and heavy rainstorm conditions to ensure the best possible performance.
EHang's Co-founder and CMO, Xiong Fifang, is excited about the company's future: "After five years of development, UAM has gradually grown into a new blue ocean in the global market… EHang welcomes more city partners to join in and work together to promote the industry so that the world can have earlier enjoyment of this safe, automatic and green new travel mode." We look forward to giving it a try.
Source: EHang.com