OXWASH is looking to revolutionise the washing industry. Its unique approach, which combines next-generation cleaning and logistics platforms, has garnered a €1.6 million investment from TrueSight Ventures, Biz Stone (co-founder of Twitter), Paul Forster (founder of Indeed.com), Founders Factory and other angel investors. With this investment behind this young, Oxford-based startup, the company hopes to expand its operations and also help a variety of services in the UK during the coronavirus pandemic. So, how does it work?
OXWASH & Its Goal of An Eco-Friendly Laundry Service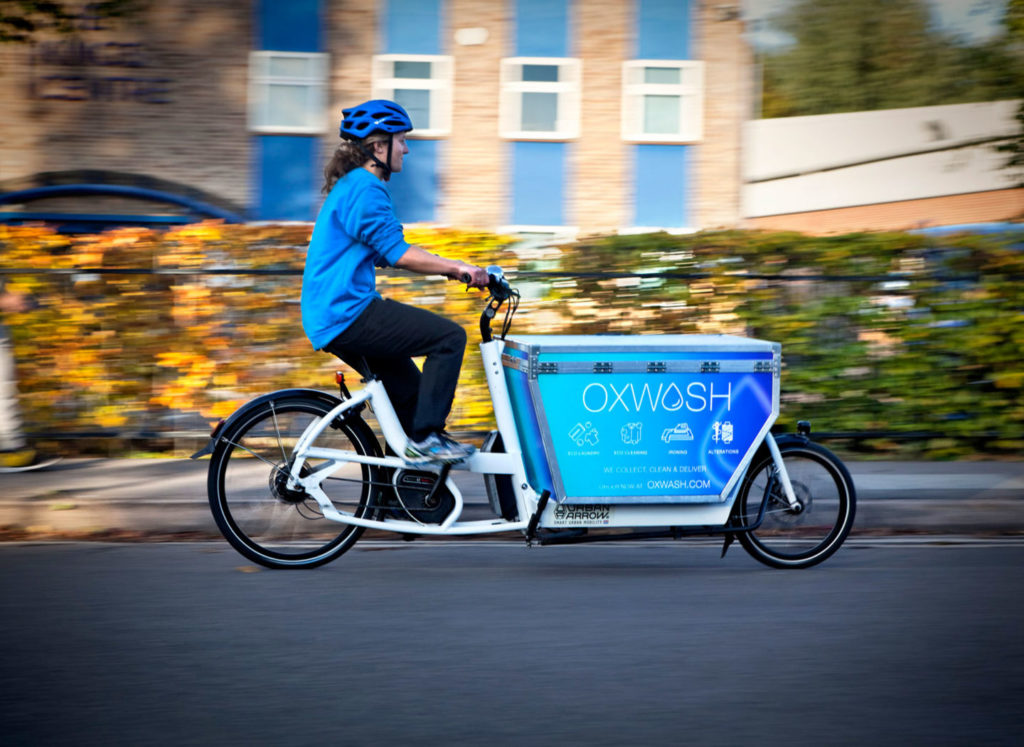 Founded in 2018 by former NASA engineer Kyle Grant, OXWASH is taking medical-grade laundry technology typically used in spaceship and hospital sterilisation and making it accessible to all. Its solution involves a variety of steps. 
Firstly, sterile water reclaimed from a previous wash cycle is used again for the next cycle. This saves up to 60% of the water consumption versus a typical commercial washing machine. Secondly, microfibre filtration of the reclaimed water captures more than 95% of all the fibres shed during washing. This process prevents plastic pollution of our waterways and drinking water. Thirdly, disinfection and sanitisation of the washing is performed using ozone. Generated using electricity and oxygen from the air we breathe, ozone is an extremely powerful disinfecting agent. And lastly, automated and variable dosing of biodegradable detergent chemistry prevents surplus chemical usage. Chemical disinfectants increase the hygiene of the wash cycles whilst simultaneously preventing colour running.
The service provided by OXWASH is currently operational in Oxford, Cambridge and London and services both individuals and businesses, such as hotels, Airbnbs, colleges and offices. However, with the recent pandemic presenting an opportunity for the startup to help, it has begun to work closely with the NHS and vulnerable groups to provide clean and efficient support. OXWASH is now providing disinfection for customers, by combining ozone disinfection with thermal and chemical processes to wash to pharmaceutical-grade. This allows for the eradication of bacteria and fungal and viral agents. The startup also uses no-contact pickups and electric-cargo bikes adapted with portable ozone generators to sterilize items, dissolvable laundry bags and to eliminate coronavirus transmission through fabric and clothing.
Kyle Grant, CEO and co-founder, demonstrated how OXWASH is helping during this difficult time, "We've developed a service in the last 2 months that is available to provide coronavirus disinfection. Our original goal for the business remains to help the planet – originally focussing on the eco-friendly nature of our tech compared to traditional laundry options. However, in recent weeks it's become apparent that our help is needed in keeping people safe. In light of the current coronavirus situation, we are working closely with NHS and vulnerable groups to provide support when needed as well as doubling down on our software development, including our app, and rolling out the service to London later this year while continuing to focus on our original locations – Oxford and Cambridge."
Source: EU-Startups