Vehicles are nothing particularly new, but Flygildi's Silent Flyer takes technology to the next level.
The Icelandic startup Flygildi recently raised an undisclosed angel funding amount led by Spakur Finance. According to the company, the funds will be used to market its silent, bird-like drone abroad and for further research and development of the software.
About the Silent Flyer
The Silent Flyer is a wing-flapping drone that looks and flies like a bird while incorporating vertical take-off and landing (VTOL) capabilities. Radar can't distinguish it from a normal bird, making it ideal for use in surveillance applications, research and wildlife photography.
It features wings inspired by nature – they can morph during the flight and retract into the body. This makes the drone more energy efficient allowing it to stay airborne for longer. A combination of gliding/soaring and flapping may give the drone a typical flying time of around 40 minutes. If continuously flapping, the current flying time is around 15 to 20 minutes. The Silent Flyer can reach a flying speed of up to 50 km/h.
Currently, Flygildi's representatives are preparing a $4 million investment round in the US. The drone has already garnered significant interest from Skydio, a drone company, Lockheed Martin, a weapons manufacturer, and Oculus for further funding.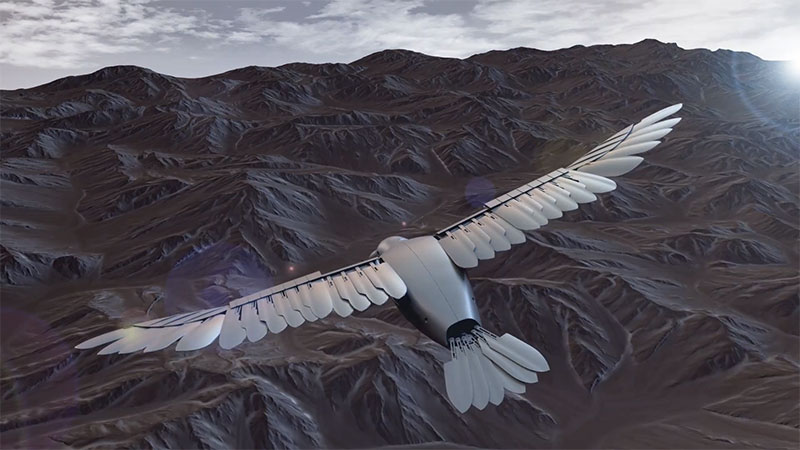 The Drone to Scare Away Birds Living Near Airports
Flygildi recently signed a contract with The Icelandic Civil Aviation Administration, ISAVIA, with the intention of using the drones to scare away living birds near airports, which pose a serious threat to daily flight operations.
Hjalti Harðarson, the founder and managing director of Flygildi, told us how the drones will do that: "The Silent Flyer is quiet, just giving a slight humming sound from the motors that control the wings. For scaring birds near airports, the Silent Flyer gives off raptor bird calls and the Silent Flyer has a "library" of different raptor calls to suit local conditions. Otherwise, the Silent Flyer should not normally disrupt wildlife."
Applications
The drone features cameras and other sensors, allowing it to operate both on a bright day and a pitch-black night.
The Silent Flyer will be applied in scenarios when silent and non-obtrusive UAV is necessary. These areas include government law enforcement and surveillance by government and private companies, military use, and wildlife photography & research.
And how to ensure the technology won't be misused?
According to Hjalti Harðarson, Flygildi will only sell the Silent Flyer to responsible buyers including official bodies such as police. "Maximum payload besides the standard equipment of the Silent Flyer is around 100-200 grams and therefore the chance of carrying harmful payloads is very limited," further explained Hjalti Harðarson.
About the Founders
The startup was founded in 2012 by Hjalti Harðarson, an electrical engineer and Dr. Leifur Þór Leifsson, an aerospace engineer. Leifsson is an assistant professor at Iowa State University, whilst also holding a position at Reykjavik University.
Prior to founding Flygildi, Hjalti co-founded Hugrún ehf in 1982 with his brother Kjartan, as well as Hafmynd ehf in 1999 alongside the Fishing institute of the University of Iceland and the Marine and freshwater research institute of Iceland.