Neuchâtel, May 12, 2020 – Aktiia, a Swiss-US startup, has developed a wrist-worn optical blood pressure monitor that can automatically take measurements around the clock without requiring a specific arm position.
Many technology companies are working to develop products that measure blood pressure without inflation of a cuff, frequently through the use of optical sensors similar to those found in popular smartwatches and fitness trackers. Despite some promising results, most products publicly announced to date only work when the user places their arm at heart level and manually pushes a button to trigger a measurement while at rest. This requires the user to interrupt their daily life to take a measurement, and also does not allow for measurement during sleep – critical missing information.
The Aktiia bracelet is an automated cuffless solution, with blood pressure measurements triggered by the device itself around the clock. To ensure that measurements are accurate without requiring a specific body or arm position, it was necessary for the Aktiia team to design a new validation protocol. In a peer-reviewed paper accepted for presentation at the 2020 IEEE Engineering in Medicine and Biology Conference (EMBC), Aktiia discloses this challenging new trial design, and results from a pilot study with the Aktiia bracelet. By disclosing the study design, Aktiia hopes to establish common rules applicable to any automated cuffless blood pressure monitor seeking to be used around the clock.
Utilizing this protocol, the Aktiia bracelet and algorithms were able to generate accurate blood pressure estimates in multiple positions, while the user was lying down (67% of the time), sitting (~50% of the time), and standing (~25% of the time). Prior to any measurements being displayed to the user in the Aktiia app, all unsuccessful measurement attempts are discarded, allowing for 24/7 measurements that the user and their doctor or loved ones can trust.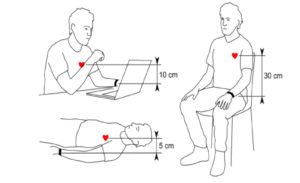 Since this initial pilot trial, Aktiia has further implemented this protocol in a pivotal trial (NCT04027777) across a larger, more diverse subject population. Pending FDA clearance and CE mark, Aktiia's product will become the first automated cuffless solution able to measure accurately in the background of daily life without hassle, regardless of body position.