Those of us living in metropolitan areas have an intimate relationship with public transit. We have our favourite lines and our least favourite, our ticket purchasing routines and our preferred seat on the bus (the beginning of the raised rear section? Or as close to the doors as possible?). There are certain feelings evoked when we enter the train station in the morning, or perhaps the same familiar face perched at the bus stop on the daily excursions to work. Despite our close and daily relationship with public transit, it sometimes feels like it has hardly been innovated since its invention in the 1800s. As the pressures of traffic and increased population mount, cities are looking for new approaches to solve problems associated with ageing infrastructure. Pantonium's solution joins the increasing number of on-demand services to reinvent the wheel when it comes to public transit.
A Fresh Face for An Old Option
Pantonium is partnering with public transportation services to create an update on traditional bus services. Rather than sticking to a fixed route, bus dispatchers can use Pantonium to field requests and organise the path to optimise the number of people on the ride. The key to this process is the algorithm which pairs stop information with incoming rider requests to build an efficient route for bus operators. Users submit via an app their desired destination and arrival time. Bus drivers receive updated routes according to the algorithm's calculations. For riders who don't have a smartphone, Pantonium has also built in a dial-in feature to request users' bus routes.  
A study run by Masabi, a company that develops software as a service solution for mobility, found that more than price, travel time and necessity, convenience is the primary reason for choosing to ride public transit. This serves as fodder for the potential effectiveness of a solution like Pantonium's for cities worldwide. If riders can choose when and where they will be riding, the service becomes infinitely more convenient.
Pantonium is Accessible and Artificially Intelligent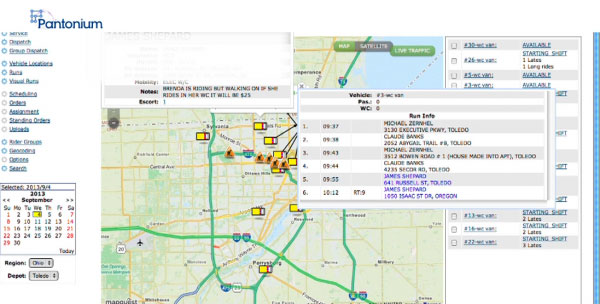 We met Pantonium CEO and Co-Founder Remi Desa at the World Energy Congress in Abu Dhabi. Desa said, "We understand, public transit has to be equitable. Not everyone has smartphones, but a good majority do. For the people who don't have smartphones, they can call in and book a trip. Also, the bus driver can board people ad hoc-ly. 
"So for example if the bus service knows there's a church, and there's gonna be a lot of people coming out of church at that time who don't have smartphones, they can create a fixed stop at that time. So the bus goes there, the people get on, they tell the bus driver where they want to go to and very quickly he can board them."
So how does it work? Pantonium's app uses artificial intelligence to sort the quadrillions of possibilities associated with transit planning. It uses a global optimisation algorithm. The company partners with existing infrastructure to use the buses, stops and drivers already in place. The company has designed a three-point platform to coordinate the timed use of buses and bus stations. Users download the Pantonium app to their phones. Cities install iPads and QR code scanners on the buses for drivers. Then there is a central platform, managed by Pantonium, that fields the requests and optimises them in real-time. 
Desa also shared with us some of the challenges associated with updating a system so overlooked. Desa also stated, "The challenge is the status quo because this is a new area. And cities haven't really changed the way they run bus services. But I think with more people getting an understanding of what on-demand service is and cities starting to feel the pressure of congestion, they're starting to think of different ways of how they have to address this issue… So, I think it's going through a transformation."
Source: Masabi